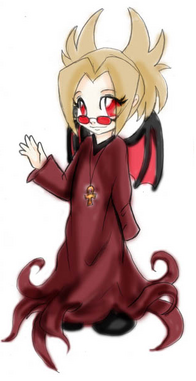 Emily-Lynn is the product of mad science...er I mean magic. Born out of lab accident in
Professor Ezriel
's lab she is semi-clone of
Ms. Minerva Amelius
. She was eventually adopted by
Zakai
's family and has since become something inbetween to a sister or next door neighbor to him. She tends to be a trouble maker, which is only spured on by the fact that she and Ms. Amelius can't stand each other. Though she does occassional try to impress Professor Ezriel to no effect.
Ad blocker interference detected!
Wikia is a free-to-use site that makes money from advertising. We have a modified experience for viewers using ad blockers

Wikia is not accessible if you've made further modifications. Remove the custom ad blocker rule(s) and the page will load as expected.